The ringed seal has drawn the short straw in life.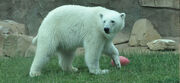 It is the main prey of the polar bear (Ursus maritimus), one of nature's most efficient and determined hunters. A seal pup might feel safe tucked up in its lair deep in the snow, but a hungry female polar bear can smell it from more than 2km away. Near starvation after a four month birthing spell in her winter den, she needs blubber to produce milk to feed her cubs. She pads delicately across the sea ice to within a few metres of the lair, her huge, furred feet making no sound. Having chosen her target she leaps into the air, crashes down with her front legs and smashes through the snow. If the seal has not swum to safety through its escape hole she scoops it out with sharp claws. A fully-grown polar bear needs the equivalent of one adult seal every six days, so the hunt is relentless and a bear might travel 50km or more between meals.
Polar bears have two other hunting strategies. Still-hunting involves finding a seal's breathing hole in the ice and waiting for it to surface to make the kill. Bears will also stalk their quarry in the open (they can smell seal blubber from 35km), either crouching and creeping up on the surface or swimming through channels in the ice.
Polar bears are superb swimmers and have been seen in the open sea miles from land, paddling at up to 7kph. On land they can run at 40kph.
When humans moved into the Arctic regions 4000 years ago they learned their hunting techniques from the bears, techniques that are still used by the Inuit or Eskimo people. Polar bears, called nanuk by the Inuit, were the most highly prized of all quarry and played a large part in their cultural and spiritual life. Killing a bear was a major event incorporating much ceremony. Sometimes, of course, it was the bear that killed the person: the predator-prey relationship works both ways.