It is late June and beside the Grumeti River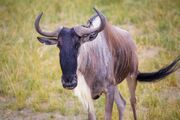 in the northern Serengeti National Park in Tanzania, crocodiles await their annual feast. This river is an important watering point - and hazardous crossing - in the annual migration of the wildebeest (Connochaetes taurinus). Wildebeest herds follow the rains in a 600km round trip circling the Serengeti. They sense rain from 50km away and travel up to 60km a day chasing the new growth it brings. When they arrive at the Grumeti they are in peak condition, fattened on the fertile plains of the south. To reach the next pastures they must cross the river. Hundreds are dragged down by the crocodiles and many more drown in a rush, their stranded bodies picked over by scavengers. 
Community content is available under
CC-BY-SA
unless otherwise noted.